ISI offers custom options that make an instrument truly one of a kind.
Peg head carving (on the bowed instruments), inlay, and decorative options are also available.
We truly enjoy working with our clients to create these unique instruments, geared towards the specific needs of the customer.
All ISI instruments carry a lifetime warranty.
10 string Octave Mandolin
Jordan and I have completed work on this custom 10 string Octave Mandolin for Stuart Allen, a musician from our own hometown of Ithaca.
Red Spruce top and Stevensoni Rosewood back and sides .
The thing roars. It is nice to have one of our babies here on the local scene.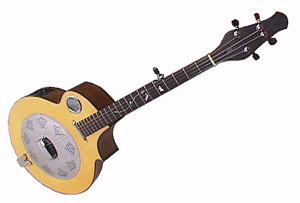 The Dojo
This was a fun one we recently finished for Andrew Farnsworth, guitarist and mover and shaker for the band Mectapus, one of my own musical projects. Check out the web site at www.mectapus.com for some samples of the NV violin and Oneida guitar on disc.
Andrew has dubbed this thing the "Do-Jo." It combines elements of banjo and a National style reso-phonic. It's very phatt with a biscuit transducer and lipstick tube magnetic pickup.
NS by Ithaca
Many musicians have the desire to explore a non-traditional approach to their instruments; in particular the ability to interface with digital sound generators and samplers through the use of MIDI. In recognition of the need for a new type of bowed instrument for these musicians, ISI entered into a collaboration with award winning designer Ned Steinberger, a world leader in alternative instrument design. The result of this collaboration, the "NS" by Ithaca is a violin, distilled down into beautifully sleek minimalist lines, which opens up new possibilities in playing technique.
The instrument incorporates a combination of traditional and space age materials in it's construction, a superb new tuning mechanism, and is designed to be fitted with the current state of the art MIDI interface. Forward looking in it's design & functionality, the NS by Ithaca provides electronic musicians with a new tool for experimentation.
DISCONTINUED- NO LONGER AVAILABLE
Specifications: Scale length commensurate with traditional Stradivarius patterns. Active electronics include volume, treble & bass controls.

Price includes a custom Blue Heron gig-bag with bow holder.